Update: Look what happened today!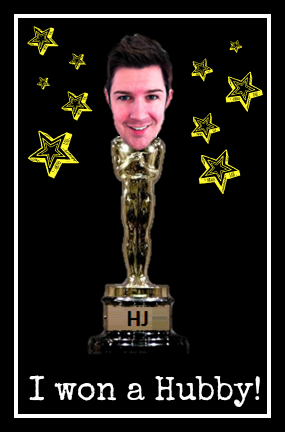 -------------------------------------------------------------------
I mentioned earlier that I'm trying to go
no-carb
low-carb this week. It's been a little interesting given that Pete and I never had time to do any proper grocery shopping over the weekend. We got some things while present shopping on Friday, but we were at a regular Target--the kind with the limited grocery department--so we didn't get much. Last night we went to Cub and remedied this situation.
BUT before that, we muddled through dinner. Highly processed, very salty already cooked "pork chops" (guh-ross), peas (for me), and mashed cauliflower fauxtatoes. This was Pete's first experience with them and I kind of sprang them on him. I hadn't had these in a long while, and I remembered them being delicious. I really wanted him to like them.
Step 1: Add Greek yogurt to make them extra creamy
This might have been my downfall...they just tasted off.
Step 2: Clean all the fauxtato dishes while the microwave is running so Pete can't complain about the mess and hassle.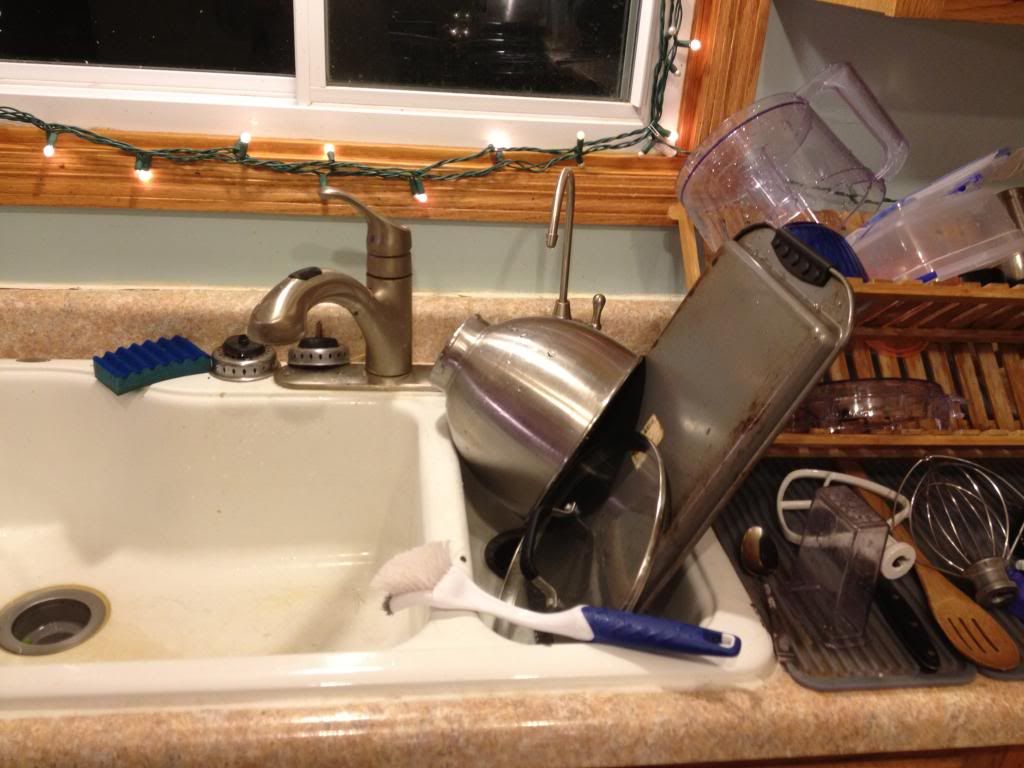 Step 3: Make sure to add buddah.
Step 4: Cover Pete's helping with an ass-load of cheese. Oh yes.
Pete tried to be nice, calling them "not too terrible" and saying only that the texture was "off," but the proof is in the pudding. At the end of dinner, his plate had a huge pile of fauxtatoes on it. He told me he was still picking at it. But about 5 seconds later, he reached for a piece of bread instead. Ha! Mission failed!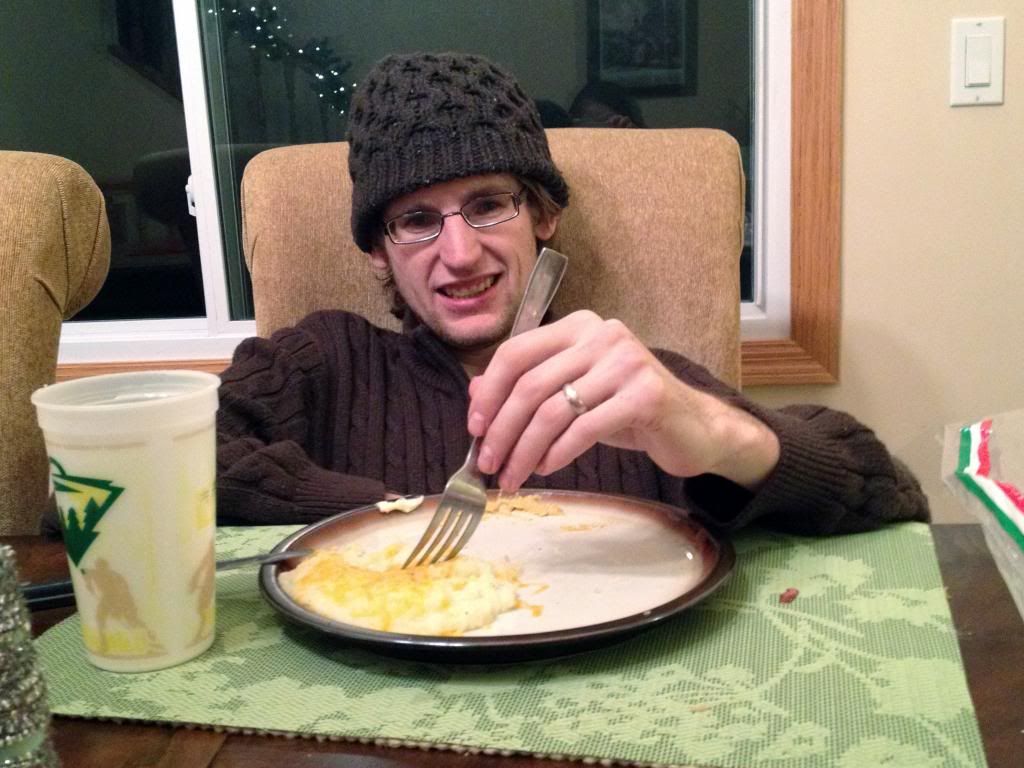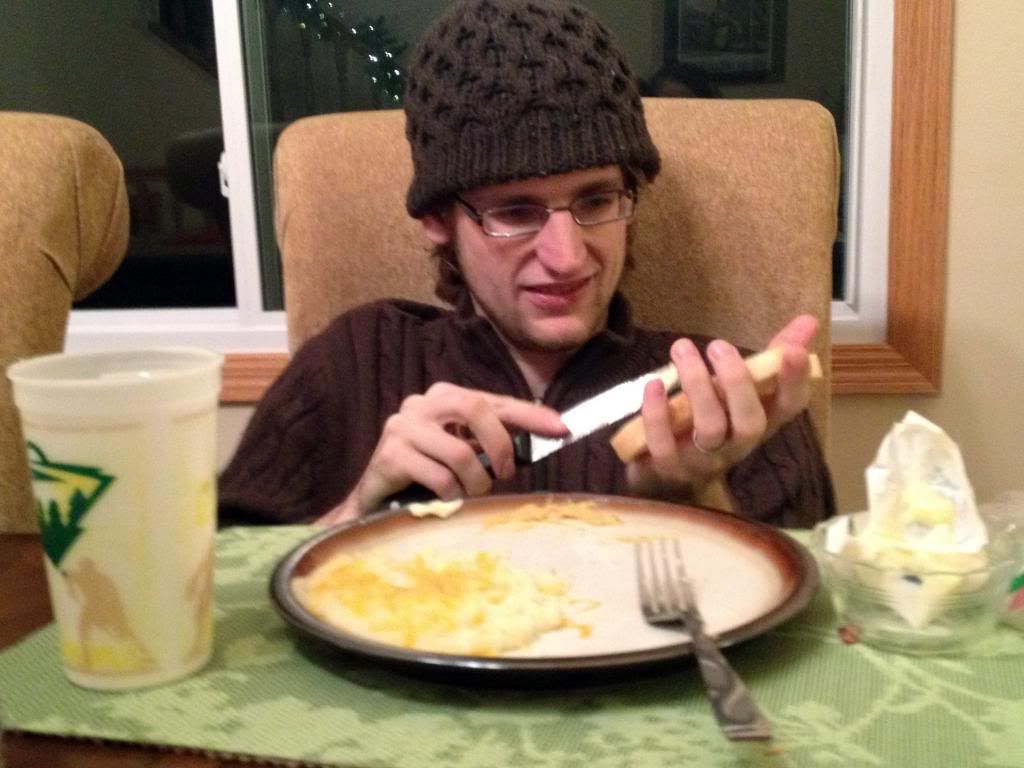 Yeah, OK, so I'll be sticking to sweet potatoes as my mashed substitute. But I do know a few tricks for this low-carb game. I'm riding the spaghetti squash fad, I've enjoyed a piece or two of Ezekiel bread in my day, and hell, I've even dabbled with textured vegetable protein (TVP). It was for a fauxtmeal recipe that was only OK. Now, the following breakfast recipe? I loved it.
I used to eat it a lot when I was on the "Idiot-Proof Diet," which is the diet that prompted me to take my
"before" picture
. It was an Atkins-esque diet and despite following it religiously, I netted a loss of 10 pounds and that's it. This is why I'd never recommend any diet based on ketosis to my ladies.
Anyway.
"Fake Cream of Wheat"
1/2 cup Ricotta cheese
1

egg

cinnamon (pure, not the kind with sugar)
Splenda/Stevia/Agave Nector
salt
vanilla extract
In a bowl, mix the Ricotta with some water to thin it out (not too thin, but a little runny).
Add the
egg
and beat with a whisk.
Add cinnamon, sweetener, vanilla, and a pinch of salt. Mix it all in.
Heat in a pan over medium heat. It will get grainy. That's the
egg
cooking. When it looks like oatmeal, put it in a bowl and eat up!
You can't taste the Ricotta or
egg
, so it's just like a cinnamon-y oatmeal! Mmm-mmmm!
Food Logs
coffee: half cream half milk

(salad) 2 cup(s) mixed greens

(salad) 1/2 medium uncooked baby carrots

(salad) 2 tbsp Lily's Dressing

(tuna on rice cakes) 2 item(s) plain rice cake(s)

(tuna on rice cakes) 1/2 cup(s) water-packed tuna fish, drained

(tuna on rice cakes) 1 Tbsp fat-free mayonnaise

1/2 cup(s) scrambled egg(s)

2 oz Chobani Yogurt – adding sour cream to scrambled eggs makes them so rich and creamy. I used Greek yogurt instead.

1 oz low-fat cheddar or colby cheese

4 slice(s) cooked crisp turkey bacon

2 squares Ghirardelli Chocolate Chocolate Squares

Food PointsPlus values total used

Food PointsPlus values remaining

30 min Weight lifting, free weights (vigorous effort)

25 min Running (5 mph [12 min/mile] or faster)

Activity PointsPlus values earned
Tuesday, December 18,2012
coffee: half cream half milk

(salad) 2 cup(s) mixed greens

(salad) 1/2 medium uncooked baby carrots

(salad) 2/3 cup(s) canned chickpeas

(salad) 2 tbsp Lily's Dressing

2 Tbsp creamy peanut butter

2 oz Hormel Smoked Pork Chops

1 cup(s) cooked cauliflower

1 serving(s) 1 oz reduced fat Colby jack

1/2 cup(s) cooked green peas

Food PointsPlus values total used

Food PointsPlus values remaining

34 min Running (5 mph [12 min/mile] or faster)

Activity PointsPlus values earned