It's probably not a good sign that I've started to lose it before Christmas is even here. Pete's mom sent us home with a box of cookies a few weekends ago (or maybe it was only last week?) and I was fine for a while. Pete had them up in the office and I completely forgot about them.
Then I found them.
I both hate and love posting my food logs here. I hate it because it's embarrassing to lay it all out for you when I make bad choices. I love it because I remember how painful publishing that information is and it (generally) helps me to rein it in when I'm on, say, a midnight cookie rampage.
Wednesday was a bad day. I did well enough at work, with the food I'd packed. Then we had dinner and the carby flour tortilla must have set me off. I went to church to teach my Wednesday night class and we had a holiday cookie party for the kids. I took coffee with me because I was so damn tired and thought it would be my "treat" and make me feel better about not partaking in the cookies and juice. But when another teacher handed me a frosted soft cookie, I ate it. Then I came home and saw the box of cookies and could
not
get it off my mind. "It's the holidays," the cookies whispered, "you'd be a grinch not to eat us." So I feasted on the cookies like they were who-pudding and who roast beast and my
heart
waist grew three sizes that day.
Actually, last night wasn't so bad. I had two cookies after dinner, but then stopped. Where I lost it was the midnight oatmeal snack when my stomach was growling. I should have just gone to bed. I woke up this morning feeling gross about the last two nights. I made myself that
"Fake Cream of Wheat"
then tossed it down the disposal after a few bites (YECK! Too salty! Either I put in more than I thought I had or the reduced fat ricotta is saltier than I thought it'd be). Instead, I ate warmed/softened pears with ricotta and cinnamon for breakfast.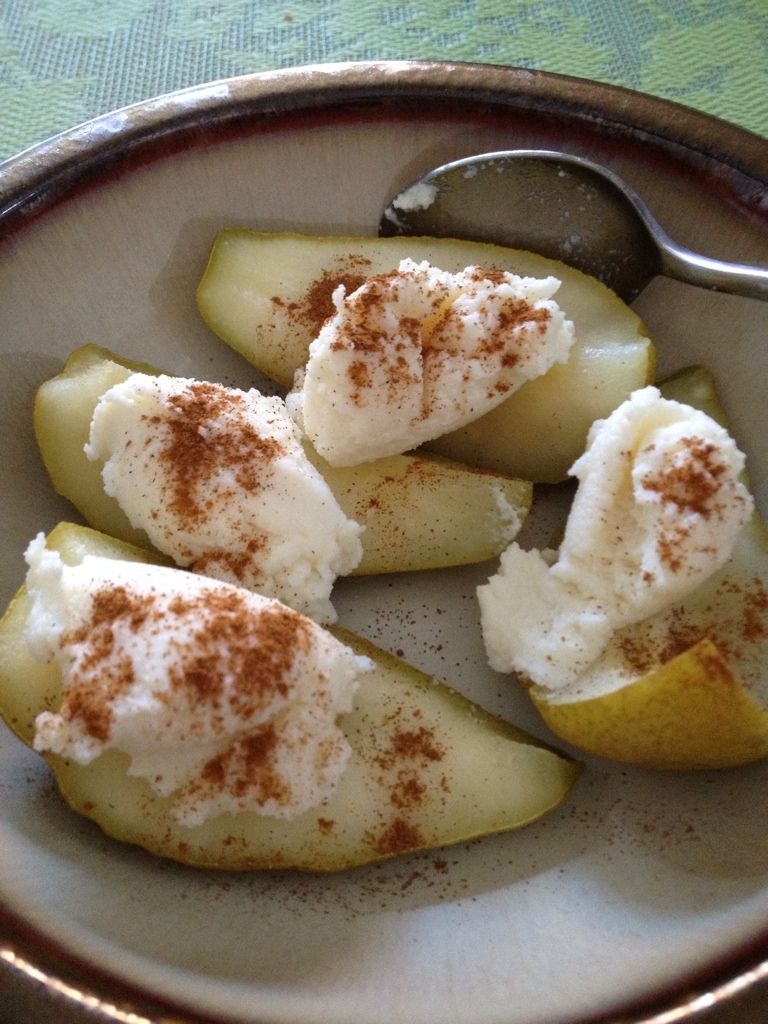 Then I took to the basement for some full-body strength training: arm curls, hammer curls, tricep extensions, those forehead crusher things, bench press, chest press, bent over row, standing calf raises, sumo squats, lunges, glute bridges, shoulder raises, lateral raises, a plank, plank with knee twists, bicycles, crunches, reverse crunches...then I ran up and down the stairs for 20 minutes. It felt great, and I realized something:
Stairs are freaking BORING. I didn't have any music with me, so it was just: go past Pete's railing, say hello to the Christmas tree, turn around, come up to visit Cosmo, repeat.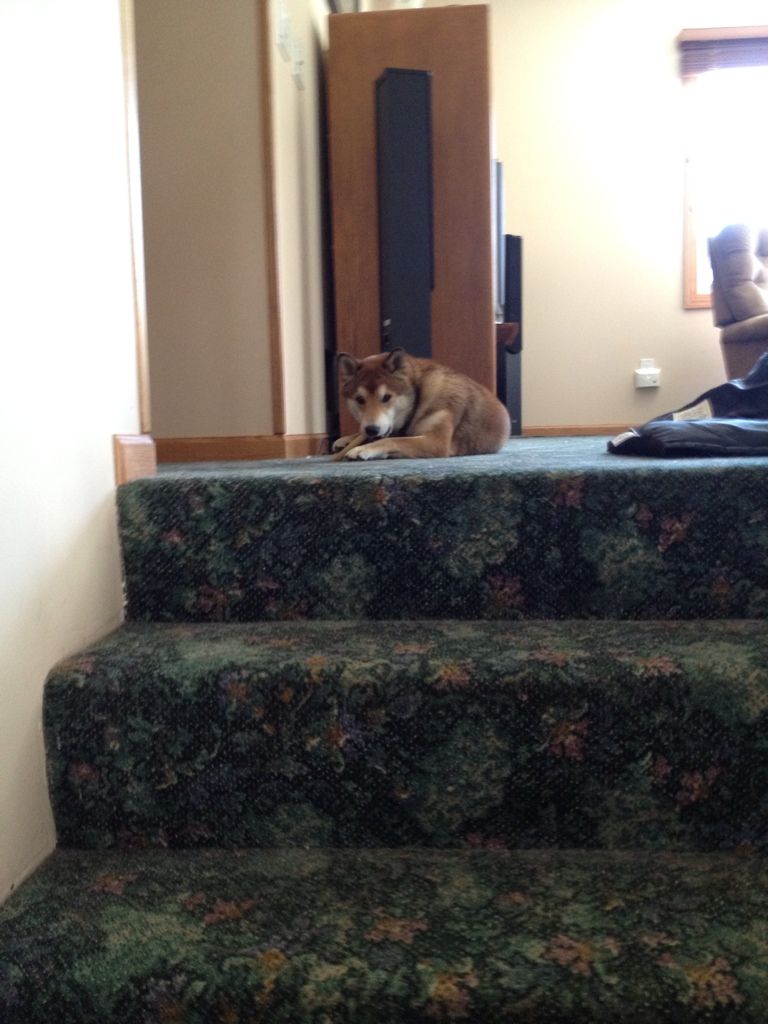 I did see one thing that amused me. It's a Christmas decoration my mom gave me. The first year I had it, we put it up in the house and Pete positioned the figures in a "non-traditional" way. I though it was funny (because I'm 12) so now every year we set them out in the same configuration. I hadn't given it a thought this year because Pete set it up, but today I had jamais vu and it made me laugh.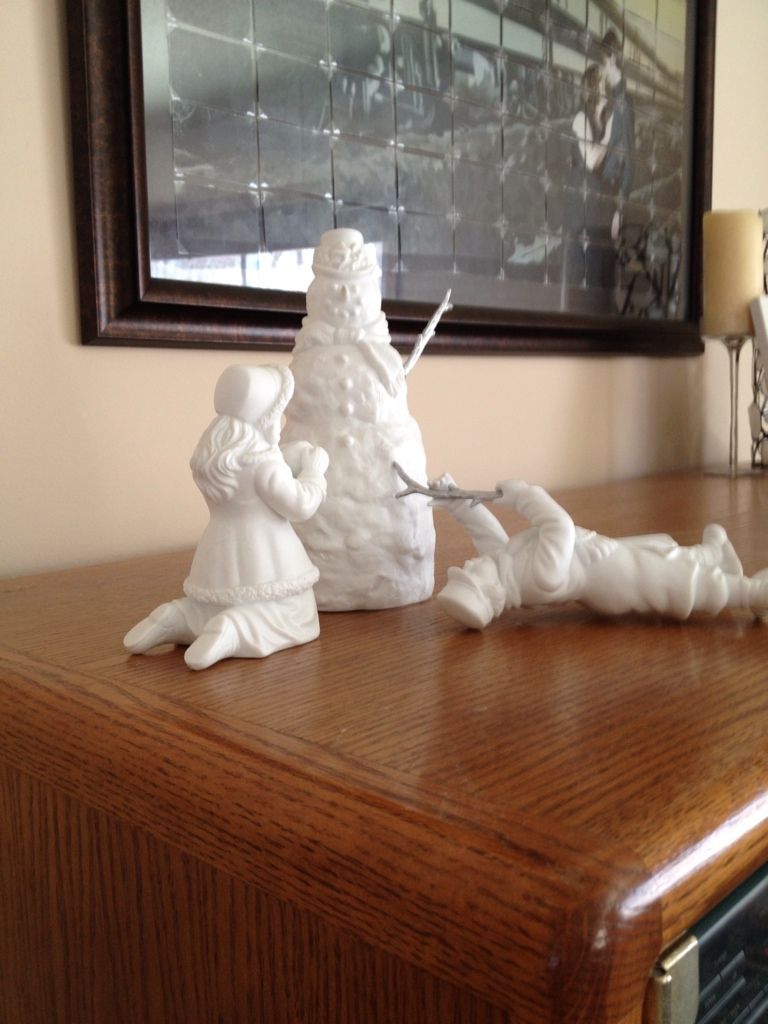 Alright. Without further adieu, my bad food logs. Let me be a cautionary tale. Those cookies add up.
Wednesday, December 19, 2012
1 Dannon Oikos - Fruit on the Bottom, Strawberry

3 tbsp Coffee-Mate Coffee Creamer

Salad: 2 cup(s) mixed greens

Salad: 1/2 cup(s) canned chickpeas

Salad: 1/3 cup(s) strawberries

Salad: 2 tbsp Lily's Dressing

Tuna in rice cakes: 2 item(s) plain rice cake(s)

Tuna in rice cakes: 1/2 cup(s) water-packed tuna fish, drained

Tuna in rice cakes: 3 oz Chobani Yogurt

Dinner – crockpot chicken salsa in a tortilla

1 medium flour tortilla(s)

3 oz cooked skinless, boneless chicken breast(s)

2 tbsp Newman's Own Salsa

1 serving(s) 1 oz reduced fat Colby jack




(took coffee to my class because I was so tired ) 2 cup(s) black coffee

3 tbsp Coffee-Mate Coffee Creamer

1 cookie Lofthouse Delicious Cookies – frosted soft cookie at the cookie party for my class

Then at home…3 homemade thin mints

Food PointsPlus values total used

Food PointsPlus values remaining




Activity PointsPlus values earned
Thursday, December 20, 2012
1 Dannon Oikos - Fruit on the bottom - Blueberry

3 tbsp Coffee-Mate Coffee Creamer

2 1/2 oz cooked skinless, boneless chicken breast(s)

2 tbsp Newman's Own Salsa

1/2 cup(s) canned chickpeas

1/2 cup(s) fresh cherry tomato(es)

1 Tbsp creamy peanut butter

choc. kiss peanut butter cookies - Quick-added food




1/2 cup(s) uncooked oatmeal

3 1/2 Tbsp unpacked brown sugar

1/4 cup(s) half-and-half cream

Food PointsPlus values total used

Food PointsPlus values remaining

40 min Running (5 mph [12 min/mile] or faster)

Activity PointsPlus values earned